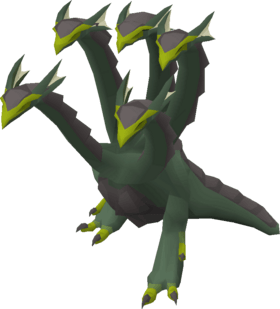 AKA - Hydra
Requirements - 95 Slayer
The Alchemical Hydra is a new Hydra Boss found within the Karuulm Slayer Dungeon on the Great Kourend.
The Alchemical Hydra can only be fought while on a Slayer task for Hydras or a boss task for Alchemical Hydras and has a slayer level requirement of 95.
The Alchemical Hydra is currently extremely popular, as it has only just been released the price of the unique drops has not yet settled. The Hydra Leather, Hydra Tail, and the Hydra Claw can all be crafted into the Ferocious Gloves, the Bonecrusher Necklace and the Dragon Hunter Lance respectively.
The Hydra also has three non-tradeable unique drops, the Hydra's Eye, Hydra's Fang, and the Hydra's Heart. These three items are combined to make the Brimstone Ring, the new best in slot tribrid ring.
The most effective tactic to use at the Alchemical Hydra seems to be to use Ranged, with either a Toxic Blowpipe or a Twisted Bow.