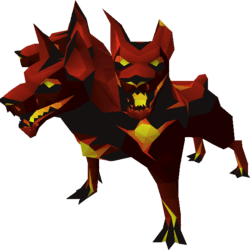 AKA - Cerb
Requirements - 91 Slayer
Cerberus is a Hellhound boss found in her lair beneath Taverly Dungeon.
Cerberus can only be fought while on a slayer task for Hellhounds or a boss task for Cerberus and has a slayer level requirement of 91.
Cerberus is an extremely popular boss, especially for Ironmen as Cerberus drops the Primordial, Eternal and Pegasian Crystals – three very powerful items which unlock the best in slot boots for all three combat styles.
The most common tactic to use at Cerberus is to use best in slot melee gear.
Notable Drops