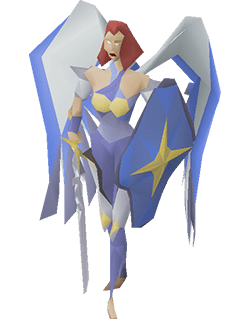 AKA - Sara
Requirements - 70 Agility
Commander Zilyana is a powerful boss in the God Wars Dungeon. Her primary attack is melee although she also uses a magic attack. Zilyana's attacks magic attacks will hit every player in the room at the same time, but she will only use this magic attack when she is within melee distance of a player.
For this reason, combined with the fact her melee speed is very high and that she can hit up to 31, the primary tactic at Zilyana is to use stamina potions to allow yourself to 'kite' Zilyana around the room and attack her with range while she's kept at a distance.
Ecumenical keys – Due to the difficulty in getting the 40 kill count required to enter the Saradomin boss room – it's highly recommended to obtain an ecumenical key instead. The ecumenical key will allow you to bypass the kill count requirement and can be obtained much quicker from the Wilderness God Wars Dungeon before you make your trip to Saradomin.
God Wards Dungeon Notes – You will need to bring one rope to gain access to the dungeon for the first time and access to Saradomin's Encampment in the dungeon requires you to have 70 agility and two ropes (first time only). When entering the dungeon, you will take damage from a variety of different monsters if you are not properly prepared.  There are certain god-aligned items you can equip in order to give yourself protection from that specific god's followers. For example, equipping a Bandos Godsword while in the dungeon will make all minions in the dungeon which are aligned with Bandos non-aggressive.
The protection needed in order to have full protection in both Saradomin's corner and Saradomin's Encampment in the dungeon is  Zamorak and Saradomin.
Notable Drops