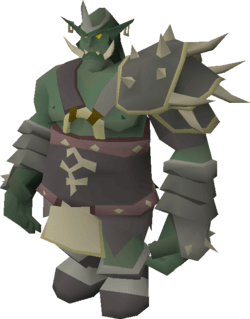 AKA - Bandos
Requirements - 70 Strength
General Graardor is often considered the easiest of the God Wars Dungeon bosses. His primary attack is melee, he has a strong secondary ranged attack, and the three minions in the boss room also attack with all three combat styles, melee, ranged and magic. For this reason it's impossible to negate all damage with protection prayers (unless you are extremely skilled at prayer flicking).
The most common tactic to use at Bandos is to use melee, while wearing high defence armour, paying particular attention to range and magic defence. You can then use the protection from melee prayer to negate all of General Graardor's melee attacks. It is, however, possible to use both ranged and magic strategies, making General Graardor one of the most flexible bosses in terms of your options.
Due to the high price of General Graardor's drops, like the Bandos Hiltand the low difficulty level – Bandos God Wars is a popular group activity amongst groups of friends and clans.
God Wards Dungeon Notes – You will need to bring one rope to gain access to the dungeon for the first time and access to Bandos's corner of the dungeon requires you to bring one hammer (Dragon Warhammer works too). When entering the dungeon, you will take damage from a variety of different monsters if you are not properly prepared.  There are certain god-aligned items you can equip in order to give yourself protection from that specific god's followers. For example, equipping a Bandos Godsword while in the dungeon will make all minions in the dungeon which are aligned with Bandos non-aggressive.
The protection needed in order to have full protection in Bandos's corner of the dungeon is Armadyl, Bandos and Zamorak. Many players will often only bring a Bandos and Zamorak item as that will give you enough coverage to get your 40 kills and enter the Bandos boss room comfortably.
Notable Drops