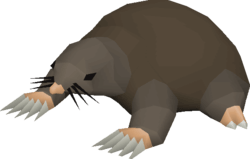 The Giant Mole is a mole boss found in the caves under Falador Park. To access the caves, you must dig on the mounds of Falador Park with a spade, you'll then be dropped into the caves below. Make sure and bring a light source, preferably a lantern to prevent it from being extinguished by the Mole.
The Giant Mole is possibly one of the easiest bosses in Old School Runescape. Other than chasing the Mole around the caves as it burrows, there aren't any more advanced mechanics than that.
The main reason players kill the Giant Mole (especially Ironmen) is to gather Mole Skins and Mole Claws, which can be traded to Wyson the gardener in Falador Park for Birdsnests.
Notable Drops