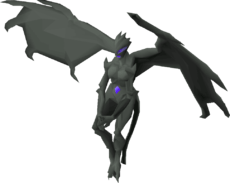 Requirements - 75 Slayer, 1 x Brittle Key
The Grotesque Guardians is a Gargoyle slayer boss found within the Canifis Slayer Tower.
The gargoyle boss can only be fought while on a slayer task for Gargoyles or a boss task for Grotesque Guardians. They are named Dusk and Dawn, and are considered a mid-level slayer boss with a slayer requirement of 75 and an item requirement of 1 Brittle Key. The Brittle Key is dropped by regular gargoyles only while on a gargoyle slayer task, at a drop rate of 1 in 150. You only need a single Brittle Key to unlock access to the Grotesque Guardians permanently.
Combined, the guardians will only count as a single kill on your slayer task, however unlocking the reward Double Trouble at a cost of 500 slayer points will make them count as two kills on your task.
The most common tactic to use at the gargoyle boss is to combine both melee and ranged gear in order to take advantage of the individual weaknesses of both Dusk and Dawn. Like regular gargoyles, the final blow must be dealt with a rock hammer to finish them off.
The Gargoyle boss fight takes place in an instance meaning you can only fight the boss alone and that your items will be safe on death, recoverable at a cost of 50k.
Notable Drops