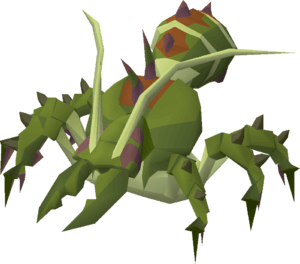 AKA - KQ
The Kalphite Queen is a Kalphite Boss found within the Kalphite Lair south of Shantay Pass.
As the Kalphite Queen is a Kalphite, she can be successfully killed on a Kalphite slayer task as well as a Kalphite Queen boss task.
The Kalphite Queen was one of the earliest bosses to be added to the game. It was often killed by players who were hunting the famed Dragon Chainbody, however, players nowadays often kill the Kalphite Queen for the chance at the Kalphite Queen Head, which allows you to re-colour the slayer helm to green, and also the Kalphite pet.
One of the easiest ways to kill the Kalphite Queen, especially in groups is to use Veracs. This is due to Verac's ability to hit through prayer.
Notable Drops