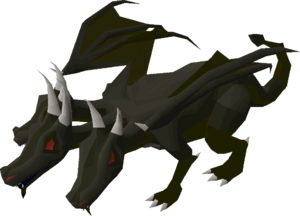 AKA - KBD
The King Black Dragon is a Black Dragon boss found within the King Black Dragon's lair in the wilderness. Whilst the entrance to the lair is found within the wilderness, the lair itself is not considered wilderness and you are therefor safe from other players within it.
As the King Black Dragon is a Black Dragon, killing him will count towards a Black Dragon slayer task.
The King Black Dragon was the first boss monster to be added to the game, way back in Runescape classic. It was often killed by players who were hunting the famed Dragon Med Helm, however, players nowadays often kill the KBD for the chance at the KBD Heads, which allow you to re-colour the slayer helm to black, and also the Prince Black Dragon pet.
Players often use either Ranged or Melee at the KBD as viable methods to efficiently kill him.
Notable Drops