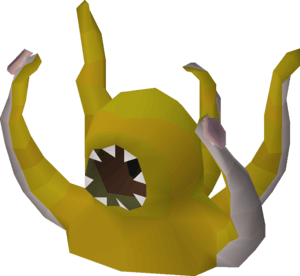 Requirements - 87 Slayer
The Kraken is a Cave Kraken slayer boss found within the Kraken Cove.
The Kraken can only be fought while on a slayer task for Krakens or a boss task for the Kraken.
The Kraken is an extremely popular boss due to it's relative ease and the fact that the Kraken drops Kraken tentacles and the Trident of the Seas, both are very highly in demand, especially by Ironmen.
The most common tactic to use at the Kraken is to maximise magic damage and magic defence, there's no need to use protection prayers as protect from magic is not effective, but you should use Augury or Mystic Might to maximise DPS.
If you wish, you can pay 25k to gain access to an instance which will allow you to kill the Kraken without worrying about other players.
Notable Drops