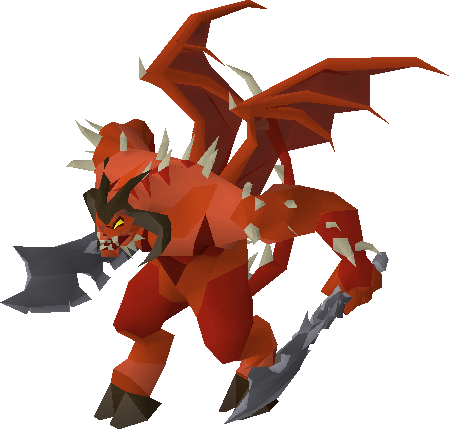 AKA - Zammy
Requirements - 70 Hitpoints
K'ril Tsutsaroth is a Greater Demon boss in the God Wars Dungeon. His primary attack is melee, he has a strong secondary magic attack, and the three minions in the boss room also attack with all three combat styles, melee, ranged and magic. For this reason, it's impossible to negate all damage with protection prayers (unless you are extremely skilled at prayer flicking).
K'ril Tsutsaroth has two unique attacks, one will inflict a strong poison on the player which starts at 16 damage. The other is a prayer smash attack, which he will only use if his target is using the protect from melee prayer. This attack can hit up to 49 damage and drains your current prayer points by 50%.
The most common tactic to use at K'ril Tsutsaroth is to use melee, while wearing high defence armour, paying particular attention to magic defence. You can then use the protection from melee prayer to negate all of K'ril Tsutsaroth's melee attacks.
As K'ril Tsutsaroth is classed as a Greater Demon, a slayer task of Greater Demon will allow you to use a black mask or slayer helmet, which greatly increases your DPS and the number of kills you will be able to achieve in a single trip. The weapon Arclight is also extremely effective against K'ril Tsutsaroth.
Due to the low prices of K'ril Tsutsaroth's drops and his difficulty level – he is not often killed outside of slayer tasks.
God Wards Dungeon Notes – You will need to bring one rope to gain access to the dungeon for the first time and access to Zamorak's corner of the dungeon requires you to have 70 hitpoints. When entering the dungeon, you will take damage from a variety of different monsters if you are not properly prepared.  There are certain god-aligned items you can equip in order to give yourself protection from that specific god's followers. For example, equipping a Bandos Godsword while in the dungeon will make all minions in the dungeon which are aligned with Bandos non-aggressive.
The protection needed in order to have full protection in Zamorak's corner of the dungeon is  Bandos, Zamorak and Saradomin. However in Zamorak's Fortress you will only need a Zamorak item to get your kill count and enter the Zamorak boss room comfortably.
Notable Drops