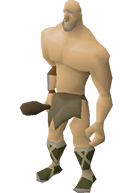 Requirements - 1 x Giant Key
Obor is a free-to-play Hill Giant boss found within his lair in the Edgeville Dungeon.
A giant key, acquired as a rare drop from regular Hill Giants or Cyclops (1/128 chance) is required to access his lair and is consumed on each use, meaning you can kill Obor one time for every key you have.
Obor is the only monster to drop the Hill Giant Club, the Best in Slot crush weapon for free-to-play players. This club is one of the most expensive items in free-to-play and has a drop-rate of 1 in 118.
Notable Drops