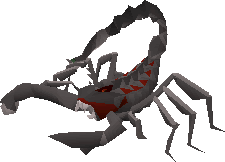 Scorpia is a Scorpion boss found beneath the Scorpion Pit within the deep wilderness.
As Scorpia is a Scorpion, Scorpia kills will count towards a Scorpion slayer task.
Outside of the Odium shard and the Malediction shard drops, Scorpia's drop table is not very lucrative so it is rarely killed outside of Slayer tasks.
The most common tactic to use at Scorpia is to farcast her with Magic using freeze spells.
Notable Drops