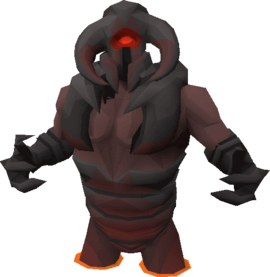 AKA - Zuk
Requirements - 1 x Firecape
The Inferno is the successor to the Fight Caves  – designed to be the most difficult solo challenge in the entire game. Like the Fight Caves, the player must battle through 68 waves which get increasingly more difficult until finally, you must beat the final boss of the Inferno – TzKal-Zuk.
It is possible to get The Inferno as a slayer task, which can help significantly reduce the difficulty of the challenge – but this slayer task will only be awarded to players who have already completed The Inferno at least once.
Upon completion of the Inferno, players will be awarded the Best in Slot melee cape in the game – the Infernal Cape.
The most common tactic for completion of The Inferno is to use Ranged. Ideally, a Ranged level of 90+ in combination with a Twisted Bow will allow most players – with a lot of practice and a bit of luck – to complete The Inferno.
It is highly recommended to only attempt The Inferno at a very high level, and with some of the best gear in the game. While it is possible to complete The Inferno at lower levels and with low-level gear, it is not for the faint-hearted!
Notable Drops