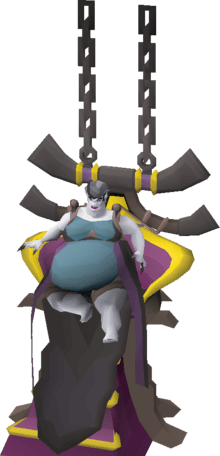 AKA - Raids 2
The Theatre of Blood, also known as Raids 2 – is Old School Runescape's second raid which can be found within the castle of Ver Sinhaza, to the east of Meiyerditch.
The fastest way to get to the Theatre of Blood is to use the Drakan's Medallion, un untradeable talisman obtained upon completion of the 'A Taste of Hope' quest. You can also get there via Andras, north of the Ectofungus who will take you to Slepe for a cost of 10,000gp.
There are no requirements to enter the Theatre of Blood, however it is considered end-game content and it's highly recommended to have high combat stats, including Melee Stats 90+; Ranged 90+; Magic 95+; Prayer 77+ (Rigour and Augury).
The Theatre of Blood, along with the Chambers of Xeric is considered by many to be one of the best pieces of content in the game to be undertaken by a group of players, like a clan or a group of friends. The raid is linear, meaning the same bosses are always fought in the same order. Some of the bosses are extremely challenging and the potential for massive rewards upon completion of the raid like the legendary Scythe of Vitur can make it very exciting. It does however have quite a steep learning curve and in order to do raids 2 efficiently, it's very beneficial to have enough GP to buy lots of high-level gear.
There are various different tactics players can use to gear up for Raids 2, one of the most common and easiest ways to efficiently gear is to use Void or Elite Void armour. Using Void allows you to bring less gear and more food and potions, making it ideal for beginners and for players who do not have a lot of GP for expensive gear.
More advanced players or players with a lot of GP may want to bring high-level gear like Bandos for Melee, Ancestral for Magic and Armadyl for Ranged.
A great resource for players looking to learn to raid as part of a group is the We Do Raids 2 discord, where there are regular Raids 2 runs for players of all levels – including absolute beginners.
Gear Notes
It is necessary to use Ancient Magicks throughout the Theatre of Blood. At the very least, you'll need runes for Ice Barrage in your Rune Pouch. More advanced players may want to bring extra Soul Runes to use Blood Barrage.
It's highly recommended to have the Salve Amulet(e) for the fight against the Pestilent Bloat.
Theatre of Blood Bosses
The Maiden of Sugadinti
Pestilent Bloat
Nylocas Vasilias
Sotetseg
Xarpus
Verzik Vitur
Notable Drops